"NEW" Bible Study Night and Topic
"Inquirer's 101 Orthodox Class"

---
Regularly Scheduled Bible Study
"An Orthodox Study of the Book of Revelations"



Please follow Facebook posts for Bible Study Updates/Cancellations
---
Join us, along with the American Red Cross, for the next BLOOD DRIVE
Saturday, March 19, 2022
8:00 - 1:00 p.m.
at St. Athanasius Greek Church 4 Appleton Street Arlington MA 02476
---
Thank you to our Sponsors who supported St. Barbara's Christmas Extravaganza Event, on December 10
Jorge Rodriguez
Old Neighborhood Foods
Georgio's Liquors
Stefanos and Despina Bouboulis
Nick and Vicki Konstandakis
Tom and Aida Gennis
Kalivas Insurance Agency
7 Star Painting
Nick and Maria Karras
Stathis and Betty Paganis
In Memory of Nicholas Kazantzas
Theophilos and Toula Vallas
God Bless You and Your Families!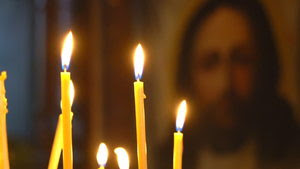 We understand that during this difficult time of the pandemic, it can be difficult to be physically away from your church. While we can pray from home, you may miss the ability to light a candle in church.
"I am the light of the world; he who follows me will not walk in darkness, but will have the light of life." (John 8:12)
---
---
ATTENTION
Please be aware of an email scam impersonating Fr. Robert Archon
Please

note that many parishioners have reported receiving an email from Fr. Bob asking for a favor and soliciting donations in the form of gift cards. These emails are a scam using a fake email account impersonating Fr. Bob. While the "From" name on the account uses his name, it is from an imposter gmail.com account.
Please disregard these emails, and do not respond to any such messages, as they are not from Fr. Bob.
Click here for more information on how to protect yourself from email scams.
---
Online Chapel
Wednesday of the 14th Week

---

View our Calendar
---
Join our e-mail list to
receive our newsletter!
Regular Church Service Schedule




Orthros 8:30 a.m. - Divine Liturgy 10:00 a.m.
Parish Office Hours


Monday - Wednesday - Friday




10:00 a.m. - 2:00 p.m.



---

---
Please consider donating to the ministries of the St. Athanasius parish through the Giving Tree.